The HMS Sylph with the HMS Maidstone close behind by B. J. Phillips
The H.M.S. Sylph was constructed in Bermuda in 1812, but was not the first ship to have the name Sylph. Although rated an '18' (based on the number of cannons aboard a traditional sloop-of-war) she was actually armed with sixteen 24-pounder carronades, two long 12-pounders and two 12-pound carronades.
During the months of June and July 1814 the Sylph was extensively active in the interruption of commerce and the capture or destruction of merchant vessels on Long Island Sound. On May 11th the Sylph captured the merchant sloop Grace and took her cargo of iron and dismantled her for fuel. On the 18th the Sylph along with the Frigate H.M.S. Maidstone fired upon a Swedish vessel prior to joining the remainder of the British squadron in blockading the Sound. The blockade, in addition to the Sylph and Maidstone, included the H.M.S. Bulwark and Nimrod. On May 25th the Sylph and Maidstone were engaged in a battle with about a dozen small gunboats under the command of Commodore Lewis. After a three hour battle the American gunboats succeeded in their task of allowing a large contingent of small merchant packets and coasters to pass unmolested past the British warships. At the conclusion of the battle two 74 gun British ships arrived on site and the American forces retreated towards Guilford. The Sylph continued throughout June to make trouble on the Sound. She joined the Maidstone and Belvidera, another frigate, along with the La Hogue, one of the 74 gun ships that had arrived in the Sound in attacking more and more vessels.
In early June the Sloop Nancy was located along near Northville, Long Island when the British arrived, attempting to land marines to destroy the vessel. They were beaten off by the local militia under Capt. John Terry who shot at the marines from the bluffs. Soon after the Sylph arrived and bombarded the cliffs with cannon fire. She was joined by another ship, likely the Maidstone, and together they attempted to drive off the American militia and take the ship, but in the end were unable to capture the Nancy.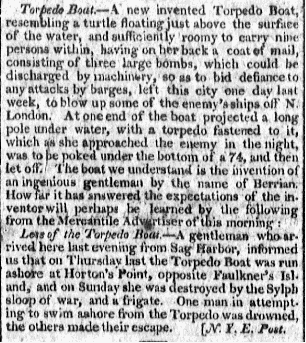 The HMS Sylph from a Model—Courtesy of the National Maritime Museum, Greenwich, England
On June 23, 1814 an early submarine, called the "torpedoe boat" was forced ashore near Horton Point, Southold after her line was cut in an effort to save a man who went overboard. The boat arrived on shore and over the course of the next few days her crew tried to get her off the beach. In the meantime, word was received by the Sylph and Maidstone of the boats arrival and they set course for her. On Sunday, June 26th, 1814 the Sylph and Maidstone arrived off of Horton Point and launched several small barges (or skiffs) with armed men intent on destroying the "torpedoe boat." Several members of the Sag Harbor militia who were present fired upon the British, who took at least four men either killed or wounded. The militia was forced to retreat and the British succeeded in landing on the Beach and burning the "torpedoe boat." The boat was one of the earliest forms of submarine to be engaged in naval battles.

Acceptance of Terms and Conditions
The Southold Historical Museum ("SHM") provides this website (southoldhistoricalsociety.org), the Online Store as well as its other websites and other websites to be created in the future at the .southoldhistoricalsociety.org site. (together, the "SHM website") in support of its mission topromote interest in and education about the history of Southold and to bring together those persons who desire to discover, acquire, preserve, maintain, and exhibit historic sites, buildings, and relics. BY ACCESSING THE SHM WEBSITE, YOU ACCEPT WITHOUT LIMITATION OR QUALIFICATION THESE TERMS AND CONDITIONS (the "Terms and Conditions"). SHM MAY REVISE THESE TERMS AND CONDITIONS AT ANY TIME, WHICH REVISIONS SHALL BIND YOU. IF YOU DO NOT WISH TO BE BOUND BY THESE TERMS AND CONDITIONS, PLEASE EXIT THE SHM WEBSITE NOW AND REFRAIN FROM FURTHER USE.
Protection of privacy
SHM is committed to protecting the privacy of its website visitors in accordance with applicable laws and regulations. All information gathered from you in connection with your use of the SHM website is governed by SHM's Privacy Policy. Please note that the SHM website is not specifically dedicated to children and SHM does not actively solicit information from children. Children under the age of 13 are required to obtain permission from an adult before submitting information to the SHM website.
Trademarks
The names, titles, trademarks, service marks, and logos that appear on the SHM website are registered and unregistered marks of SHM, including but not limited to Southold Historical Museum, SHM. You may not use the SHM Trademarks without SHM's prior, written permission.
The trademarks of third parties may also appear on the SHM website from time to time; you may not use these trademarks without prior, written permission of their respective owners. You acknowledge and agree that nothing on the SHM website grants, expressly or implicitly, by estoppel or otherwise, any right or license to use any of the SHM Trademarks or may be construed to mean that SHM has authority to grant any right or license on behalf of any third party trademark owner.
All content is protected by copyright laws
Images, text, software, documentation, electronic text and image files, audio and video files and clips, and other materials on the SHM website are protected by copyright laws and may be covered by other restrictions including for example, rights of privacy and publicity, as well. SHM retains all rights it may hold, including copyright, in data, image, text, and any other information contained in these files. Copyrights and other proprietary rights in the material on this website may also subsist in individuals and entities other than, and in addition to, SHM. SHM expressly prohibits the copying of any protected materials on this website, except for the purposes of fair use as defined in the copyright laws, and as described below.
Commercial use is prohibited
Unauthorized downloading, publication or exploitation of SHM's files for commercial purposes is specifically prohibited. Anyone wishing to use any of these files or images for commercial use, publication, or any purpose other than fair use as defined by law, must request and receive prior permission. All requests to reproduce works of art from SHM's collection should be addressed directly to info@southoldhistorical.org
Reservation of rights
All rights not expressly granted by SHM herein are specifically and completely reserved. Nothing on the SHM website or in these Terms and Conditions grants, expressly or implicitly, by estoppel or otherwise, any right or license to use any content or property of any third party, or may be construed to mean that SHM has authority to grant any right or license on behalf of any third party.
Unrestricted forums
SHM at times may provide unrestricted forums on the SHM website for the exchange of ideas and information by participants. SHM does not edit or control the information, materials, or modifications posted to, or distributed through, the forums. By posting or distributing information, materials, or modifications through the forums, you expressly abandon any proprietary rights you may have therein, and you agree that such information, materials, or modifications may be freely used, copied, and distributed by others, without your permission, in any medium throughout the world. To the extent you wish to post or distribute information, materials, or modifications to the SHM website that you do not own, SHM requires you to obtain any necessary permissions from the third party owners before doing so. You acknowledge and agree that you will not upload, distribute, or otherwise post any information, materials, or modifications to the SHM website that is libelous, defamatory, threatening, abusive, unlawful or that encourages a criminal offense; contains any viruses or other code, file, or program that is designed to interrupt, destroy, or limit the functionality of any computer software, hardware, or telecommunications equipment; infringes the copyright or other proprietary rights of any third party; or contains any advertising, promotional, or solicitation material.
Digital millennium Copyright Agent
SHM respects the intellectual property of others, and asks users of the SHM website to do the same. SHM may, in appropriate circumstances and at its discretion, take reasonable steps to disable and/or terminate access to the SHM website of users who may be repeat infringers of copyright. If you believe that your work has been copied in a way that constitutes copyright infringement, please provide the following information to SHM's Copyright Agent:
an electronic or physical signature of the person authorized to act on behalf of the owner of the copyright;

a description of the copyrighted work that you claim has been infringed;

a description of where the material that you claim is infringing is located on the SHM website;

your address, telephone number, and email address;

a statement by you that you have a good faith belief that the disputed use is not authorized by the copyright owner, its agent, or the law;

a statement by you, made under penalty of perjury, that the above information in your notice is accurate and that you are the copyright or intellectual property owner or authorized to act on the copyright or intellectual property owner's behalf. The Museum's agent for notice of claims of copyright infringement can be reached as follows:
By email: info@southoldhistorical.org
Submissions
Any communication or material you post, transmit, or distribute to the SHM website by electronic mail or otherwise, including any data or other content, questions, comments, suggestions, or the like, is and will be treated as, nonconfidential and nonproprietary. Anything you transmit or post may be used by SHM or its affiliates for any purpose, including but not limited to, reproduction, disclosure (to law enforcement entities or others), transmission, publication, broadcast, and posting. Furthermore, SHM is free to use any ideas, concepts, know-how, or techniques contained in any communication you send to the SHM website for any purpose whatsoever including but not limited to, developing, manufacturing, and marketing products using such information.
Warranty and indemnification
By using the SHM website in any manner, you represent and warrant that your use will be consistent with these Terms and Conditions, including Fair Use. You agree to indemnify, defend, and hold SHM, its affiliates, trustees, directors, officers, employees, or agents harmless from all claims, causes, costs, expenses, fees (including reasonable attorneys' fees), judgments, liabilities, losses, and damages arising from or relating to your use of the SHM website.
DISCLAIMER OF WARRANTIES
SHM PROVIDES THE SITE ON AN "AS IS" BASIS. YOUR USE OF THE SITE, CONTENT, AND COMPILATION IS AT YOUR OWN RISK. SHM DISCLAIMS ALL WARRANTIES OF ANY KIND, WHETHER EXPRESS OR IMPLIED, INCLUDING BUT NOT LIMITED TO THE IMPLIED WARRANTIES OF MERCHANTABILITY, FITNESS FOR A PARTICULAR PURPOSE, COPYRIGHT OWNERSHIP AND/OR NONINFRINGEMENT OF COPYRIGHTS OR OTHER THIRD PARTY PROPRIETARY RIGHTS. SHM DOES NOT WARRANT THAT THE SITE WILL PROVIDE CONTINUOUS, PROMPT, SECURE, OR ERROR-FREE SERVICE. SHM MAKES REASONABLE, ONGOING EFFORTS TO REVISE AND UPDATE THE SITE, BUT ASSUMES NO LIABILITY FOR ANY ERRORS OR OMISSIONS, INCLUDING THE INACCURACY OF CONTENT, OR FOR ANY DAMAGES OR LOSSES THAT YOU OR ANY THIRD PARTY MAY INCUR AS A RESULT OF THE UNAVAILABILITY OF THE SITE. SHM ASSUMES NO RESPONSIBILITY, AND SHALL NOT BE LIABLE FOR, ANY DAMAGES TO, OR VIRUSES MAY AFFECT, YOUR COMPUTER EQUIPMENT OR OTHER PROPERTY ARISING FROM YOUR USE OF THE SITE, INCLUDING BUT NOT LIMITED TO THE REPRODUCTION OF THE CONTENT OR COMPILATION.
LIMITATION OF LIABILITY
NEITHER SHM, ITS AFFILIATES, TRUSTEES, DIRECTORS, OFFICERS, EMPLOYEES, OR AGENTS SHALL HAVE ANY LIABILITY FOR ANY DAMAGES, INCLUDING WITHOUT LIMITATION, ANY DIRECT, INDIRECT, INCIDENTAL, COMPENSATORY, PUNITIVE, SPECIAL, OR CONSEQUENTIAL DAMAGES (EVEN IF WE HAVE BEEN ADVISED OF THE POSSIBILITY OF SUCH DAMAGES) ARISING FROM OR RELATED TO YOUR USE OF THE SITE, CONTENT, AND/OR COMPILATION.
Severance and waiver
You acknowledge and agree that in the event any provision of these Terms and Conditions shall be held by a court of competent jurisdiction to be invalid, unlawful, or unenforceable, in any respect, the validity, legality, and/or enforceability of the remaining terms and conditions contained herein shall not in any way be affected or impaired thereby. In such event, the parties agree that such invalid term(s) or condition(s) shall be validly reformed by the court to as near approximate the intent of the parties as reflected in the provision, and if unreformable, shall be severed and deleted from these Terms and Conditions. SHM's failure to exercise or enforce any right or provision of these Terms and Conditions shall not constitute a waiver of such right or provision unless agreed to in writing by SHM.
Venue and choice of law
These Terms and Conditions and any counterparts, amendments, or revisions thereto shall be governed and construed in accordance with the laws of the State of New York, without regard to principles of conflicts of laws. Any case, controversy, suit, action, or proceeding arising out of, in connection with, or related to this Agreement shall be brought in ay Federal or State court located in New York County and the State of New York, and the parties hereby waive any objection that they may have to personal jurisdiction in these courts.
Entire agreement
These Terms and Conditions are the complete statement of the agreement of the parties with respect to the subject hereof and supersede all prior agreements and understandings between the parties hereto with respect to the subject hereof. In order to be binding, any amendment or modification of this Agreement must be effected by an instrument in writing signed by the parties.