The HMS Sylph with the HMS Maidstone close behind by B. J. Phillips
The H.M.S. Sylph was constructed in Bermuda in 1812, but was not the first ship to have the name Sylph. Although rated an '18' (based on the number of cannons aboard a traditional sloop-of-war) she was actually armed with sixteen 24-pounder carronades, two long 12-pounders and two 12-pound carronades.
During the months of June and July 1814 the Sylph was extensively active in the interruption of commerce and the capture or destruction of merchant vessels on Long Island Sound. On May 11th the Sylph captured the merchant sloop Grace and took her cargo of iron and dismantled her for fuel. On the 18th the Sylph along with the Frigate H.M.S. Maidstone fired upon a Swedish vessel prior to joining the remainder of the British squadron in blockading the Sound. The blockade, in addition to the Sylph and Maidstone, included the H.M.S. Bulwark and Nimrod. On May 25th the Sylph and Maidstone were engaged in a battle with about a dozen small gunboats under the command of Commodore Lewis. After a three hour battle the American gunboats succeeded in their task of allowing a large contingent of small merchant packets and coasters to pass unmolested past the British warships. At the conclusion of the battle two 74 gun British ships arrived on site and the American forces retreated towards Guilford. The Sylph continued throughout June to make trouble on the Sound. She joined the Maidstone and Belvidera, another frigate, along with the La Hogue, one of the 74 gun ships that had arrived in the Sound in attacking more and more vessels.
In early June the Sloop Nancy was located along near Northville, Long Island when the British arrived, attempting to land marines to destroy the vessel. They were beaten off by the local militia under Capt. John Terry who shot at the marines from the bluffs. Soon after the Sylph arrived and bombarded the cliffs with cannon fire. She was joined by another ship, likely the Maidstone, and together they attempted to drive off the American militia and take the ship, but in the end were unable to capture the Nancy.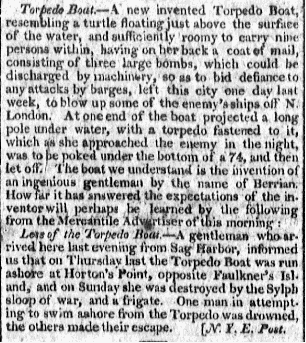 The HMS Sylph from a Model—Courtesy of the National Maritime Museum, Greenwich, England
On June 23, 1814 an early submarine, called the "torpedoe boat" was forced ashore near Horton Point, Southold after her line was cut in an effort to save a man who went overboard. The boat arrived on shore and over the course of the next few days her crew tried to get her